Adrienne Basso's THE ULTIMATE LOVER
Adrienne Basso's THE ULTIMATE LOVER
A daring lady sets out to lose her maidenhood to the ton's most dangerous rogue—but she might find love where she least expects it...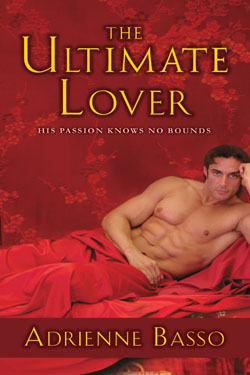 THE ULTIMATE LOVER
Publisher: Zebra Books
Publication Date: April 18, 2013
ISBN: 9781601830388
To wreck her domineering brother-in-law's scheme to marry her off, spirited widow Lady Amelia Wheatley must irreparably ruin her reputation. And what better way than to gamble that she can seduce Gareth Travers, the wild young Viscount of Longley? But Amelia never bargained that their one night of passion would make Gareth determined to win her forever.
Praise for the Novels of Adrienne Basso
"Basso has a gift for creating…stories tinged with simmering passion and poignancy." —Romantic Times on How to Enjoy a Scandal
"Sinfully sensual."—Booklist on The Christmas Countess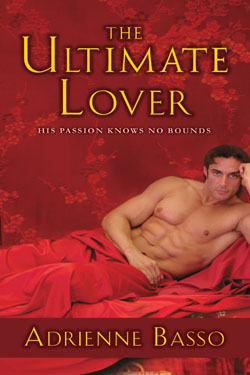 Hampshire, England
Summer, 1807
"I cannot be his lover," Amelia squeaked.
"Do you find him unappealing?" Charlotte questioned. "Personally, I prefer the earl's blond countenance, but you must admit the viscount's combination of blue eyes and dark hair is strikingly handsome."
Amelia ripped her gaze away from the viscount. "He is handsome as an Adonis with the physical attributes of a Greek god and the charm of the devil."
Charlotte smiled deliciously. "What is the problem?"
"Are you joking?" Amelia picked up her and waved it vigorously in front of her face. Perhaps a cool breeze would help moderate this light-headed feeling. "For one thing, the viscount is younger than I am."
"Oh, posh." Charlotte clucked her tongue. "What possible difference does a few years make?"
"A few years! 'Tis more like seven!"
"Ah, so that makes you old enough to be what…his mother?"
"Charlotte!" Amelia cried desperately.
"I apologize for teasing," Charlotte said in a conciliatory tone. "However, if the viscount will not do it, then take the earl. They nearly entered the room at the same time. It hardly matters if you prefer one over the other."
"God save us all, Charlotte," Amelia hissed. "You speak of it as though we are discussing which cakes to eat with our tea."
"We have been friends forever," Charlotte chided. "I would think by this time you had become accustomed to my frank, no-nonsense approach to life."
"It still has the power to shock me on occasion," Amelia admitted. "Especially when we are speaking of such delicate, intimate matters."
It was equally difficult to admit that as much as the notion nearly terrified Amelia out of her shoes and stockings, there was also a small, rebellious part of her spirit that embraced the idea of the viscount as her scandalous lover. The erotic notion that she, Amelia Wheatley, could somehow be this handsome, wicked man's woman brought Amelia's sensual imagination to life.
She lifted her head and watched the viscount closely.
He was bowing and smiling as he strolled into the room. Amelia noticed he smiled often, but gave only a select few a greeting of unaffected enthusiasm. Within minutes he was surrounded by guests of both genders who appeared eager to converse with him.
The laughter from this ever-widening circle grew steadily and though he was no longer visible Amelia had little doubt the viscount remained at the center of everyone's attention. Including her own.
Amelia sat up a little straighter. "There is no need for me to search any further. The viscount will serve my purpose most adequately." She turned her head and looked right into Charlotte's eyes. "What do I do next?"