Adrienne Basso

Bio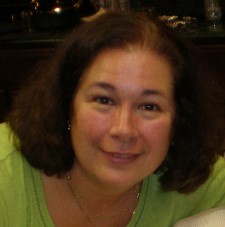 I was born in December, in Scotland, raised in France and proclaimed queen before I was a week old. Oops, sorry! That was Mary Queen of Scots. I was actually born with a vivid imagination and a grand desire to tell stories. All sorts of stories. Discovering the joy of reading in the fifth grade opened my world and I began a love affair with the written word that continues to this day.
Being raised by practical parents who taught me that hard work was the key to achieving any dream, I parlayed my love of books into a wonderful career. Librarianship. Since by nature I had to be different, I became a business librarian but was soon lured away from the library by the call of the accountant and spent several years as a financial consultant and marketing analyst.
Fortunately, I was rescued from this high-pressured life of constant work and obscene financial reward by a handsome, charming, sexy man who promised me greater personal happiness and spiritual fulfillment if I married him and moved to New Jersey.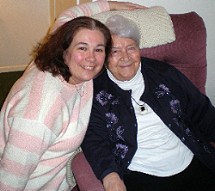 New Jersey? Hmm, now that was a tough decision. Leave the big city, the beautiful townhouse, the fast-track career? Well, I took a leap of faith and never looked back. We got married, had two incredible sons and I started thinking about my love of books. And my desire to write stories. I went back to the library, this time the public library, and got serious about my writing.
The lessons of my childhood served me well. Hard work, persistence and a bit of luck paid off big. If you've seen any other part of my web page, you already know the happy ending to my story.
Adrienne and her 102 year old grandmother.