Adrienne Basso's THE BRIDE CHOOSES A HIGHLANDER
Adrienne Basso's THE BRIDE CHOOSES A HIGHLANDER
"Basso keeps the action moving and the attraction building between the compassionate, appealing protagonists, making their journey to the altar both entertaining and satisfying." —Publishers Weekly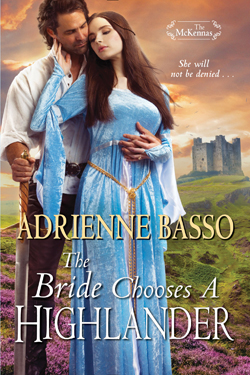 THE BRIDE CHOOSES A HIGHLANDER
(The McKennas Book 3)
Publisher: Zebra Books
Publication Date: January 1, 2019 (ebook)
ISBN: 9781420146219
Publication Date: December 18, 2018 (mass market paperback)
ISBN-10: 1420146203
ISBN-13: 978-1420146202
Scotland, 1335: Marriage between clans is a matter of property and power, rarely love. But the only daughter of Laird McKenna longs for passion—and finds it in a Highlander's arms . . .
The unconventional Lady Katherine McKenna has been granted a rare privilege: the right to choose her own husband. It's a more difficult task than she expected. When at last she agrees to a betrothal, it quickly goes awry, leaving Katherine alone in the wilds . . . and rescued by Laird Lachlan MacTavish. She's captivated by the proud, brooding chief who shows her such tender care. But with their clans on the brink of war, the honorable Lachlan resists his attraction—until Katherine proclaims to her family that they will wed.
Though stunned by her boldness, Lachlan is intrigued by Katherine's beauty and spirit, and the MacTavishes will benefit from an alliance with the powerful McKennas. But with family discord, treachery, and deceit in their midst, can they save a marriage that is destined to blossom into incomparable love?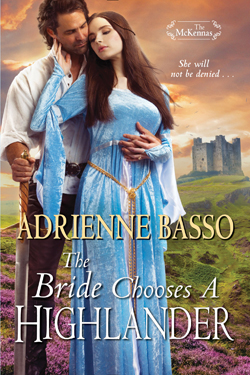 Katherine's eyelids flew open and she stared up at Lachlan. A deep, powerful yearning filled her and the temptation to kiss him grew with each passing moment.
'Twas impossible to ignore.
He was enthralling. Being this close did strange things to her. A spark of recklessness kindled inside her and Katherine felt her body lean forward. Boldly, she tilted her chin upwards, encouraging him to do what they both wanted.
He understood her invitation. She trembled as he framed her face with his hands. Then his head dipped and his mouth found hers, locking it in a tender kiss.
In spite of his strength, his lips were soft. Katherine's breath caught and her body shivered as his lips moved over hers. She answered the kiss with hesitant pressure and he responded enthusiastically, nibbling on her lower lip.
He moved his hand and pressed it against the small of her back, bringing her against him. A fiery trembling shook her. She felt his tongue slide between her teeth and she moved, arching herself closer, molding her softness to his hardness.
Mimicking his movements, Katherine tangled her tongue with Lachlan's, heightening the desire that coursed through her limbs. His mouth, warm, moist, and insistent, stirred her as no other kisses had. He spread his fingers through her hair, cupping the back of her head.
Breaking the kiss, Lachlan trailed his lips down the side of her throat, moving his teeth and tongue over the most sensitive places on her neck.
Her mind went hazy with longing and all thoughts of propriety fled. Katherine heard her breath now coming in short gasps as the pleasure churned deep inside her. Clutching her arms around his broad shoulders, she nuzzled her face down towards his, whimpering with the need to feel his lips again.
She boldly sought his mouth, urging him to kiss her harder, longer, deeper. Low sounds of pleasure escaped from her throat. She was shivering with a hunger she couldn't identify, didn't know how to assuage. Yet instinctively she knew that Lachlan would.
He kissed her once more, then turned away. Katherine swayed and he dug his fingers into her shoulders to keep her from falling. They were both gasping for breath. When hers steadied, he loosened his hold on her.
Katherine allowed her gaze to travel slowly up his powerfully muscled legs to his broad chest and finally his handsome face. Something hot and glittering sparkled in the depths of his eyes. Something she couldn't completely explain, yet could never ignore.
His smoldering kisses had awakened a passion that she had hoped existed within her, yet feared she might never find. The desire to keep kissing him, touching him, feeling him, nearly overcame her. How had he so easily beguiled her?
She had felt no need to withdraw from his kisses-quite the contrary, she had encouraged the contact. Why? Aye, she was comfortable with him, her guard was lowered, her curiosity raised. Was that all it took to allow a stranger such liberties?
Katherine carefully banked the fire inside her, needing time to examine and understand it. The kisses had been extraordinary, yet they were but a small part of what drew her to him.
What little she knew of him she admired—his caring nature, his forthright manner, his intelligence. Despite the odd circumstances that had brought them together, there was an ease she felt around him that had never existed with any other man. He had seen her at her worst, ill and unkempt, and yet somehow he still found her appealing.
Extraordinary.
"We cannae stay here alone together any longer," he announced, a visible pulse throbbing in his neck.
Katherine ran her tongue over her tingling lips. "Because of the kisses?" she asked softly, searching his eyes.
"Aye. Nay." Lachlan tossed his head, as if trying to clear a befuddled mind. "There are many reasons."
Warmth rose in her face, but she met his eyes straight on. Was he rejecting her? Nay, his kisses bespoke of his desire, his expression revealed his passion. "I dinnae think I am strong enough yet to make the journey to my home," she protested.
He moved a few steps away from her. "I know of a convent a day's ride from here. I'll take ye there so that ye may fully recover yer strength. When ye are fit, the nuns will send word to me and I'll arrange a proper guard to take ye home."
Katherine's heart began pounding at a quicker speed. The thought of being separated from him brought on an acute ache. She closed her hand over his and squeezed.
"When the time comes, will ye lead my escort?"
He released her hand, looked away, and shifted on his feet. "There's something I need to tell ye first."
Suspicion curled through her and her stomach dipped. From his tone Katherine knew that something was wrong. He refused to meet her gaze and his handsome face was lined with guilt. Over their kisses?
Nervously, she started rubbing the tightness in her neck, her mind spinning in turmoil. Married. He's married. That's why he looks so guilty.
"Tell me," she whispered, exhaling slowly to hide her trepidation.
He compressed his lips into a tight line, his expression grim. She continued to stare at him until finally he blurted, "My full name is Lachlan Alexander James MacTavish. I'm laird of the MacTavish clan."

"Basso keeps the action moving and the attraction building between the compassionate, appealing protagonists, making their journey to the altar both entertaining and satisfying."—Publishers Weekly
"Each page is a steamy, dreamy escape."—Best New Books Selection, Woman's World Book Club
"Overall I found this book to be a fabulous addition to the series. The Bride Chooses A Highlander is a tale packed with action, intrigue, deception and fighting for what is right….MAGNIFICENT!!"—Addicted to Romance