Adrienne Basso's SWEET SENSATIONS
Adrienne Basso's SWEET SENSATIONS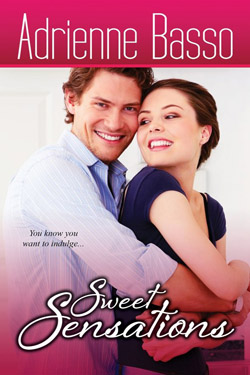 SWEET SENSATIONS
Publisher: Zebra Books
Publication Date: June 6, 2013
ISBN: 9781601830364
Sugar And Spice. . .
Lauren Stuart hasn't spent years perfecting her craft as a pastry chef only to let a stranger steal one of her prized recipes. Writing the definitive dessert cookbook is more than enough to keep Lauren busy, without investigating the wealthy hunk who claims her cheesecake as his own in a magazine article. But when she enters Jonathan Windsor in a cooking contest she's judging to expose his culinary fraud, she's surprised to find that the handsome businessman is a delicious temptation of another kind. . .
. . .And Everything Nice
Jonathan isn't sure how the profile detailing his return to his family's Maryland seafood business included a cheesecake recipe--the only thing he knows how to make is reservations. His entry in the bake-off is even more mystifying, but after one look at Lauren's lovely face, the only puzzle he wants to solve is her curious resentment towards him. He asks the petite blonde with the sharp tongue for cooking lessons, and soon dessert isn't the only thing on the menu as Lauren and Jonathan heat things up in the kitchen--and the bedroom. . .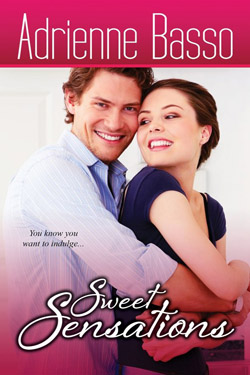 "I'm Lauren Stuart. What can I do for you?"
A small, compact woman emerged from behind the tall glass-enclosed pastry case. She was dressed in baggy black slacks, a white tailored shirt with sleeves rolled up past the elbows and an oversized flour-covered apron.
Jonathan admired her dark brown eyes, pert, upturned nose and full mouth. Her deep honey-colored hair was pulled back and tied with a bright red ribbon, but wispy bangs fell across her forehead softening the effect. She moved with unconscious grace and efficiency, though her quick bounding steps ceased the moment their eyes met.
Jonathan recoiled at the nasty glare she sent his way. Lauren Stuart looked like she wanted to bash him over the head, preferably with a heavy, blunt instrument. It was not the female reaction he normally received.
"Hello, Ms. Stuart. I'm Jonathan Windsor," he introduced himself.
She didn't offer her hand, and her piercing brown eyes clearly conveyed her disapproval.
"What do you want, Mr. Windsor?"
The cool, barely civil tone of her voice surprised him. Yet Jonathan attributed her sharp manner to being annoyed at this unexpected interruption. The small shop was nearly overflowing with customers, and a line was rapidly forming behind him.
"I can see you are very busy, Ms. Stuart, so I won't take up much of your time. I'd like to ask you a few questions about the upcoming cooking contest being sponsored by the hospital auxiliary. I understand you're one of the judges?"
"I don't take bribes, Mr. Windsor."
Jonathan laughed. "I'm relieved to discover you are so honest." He saw her brown eyes widen and her mouth open, but he cut her off before she could speak. "Apparently there has been some sort of mix-up. I received a letter today, but I never registered for the contest."
Her eyes darted briefly to the floor, then turned up and glared at him. "I'll instruct my sister Eileen to remove you from the contestant list. She's coordinating the event." Lauren's lip curled up into a sneer. "We understand completely if you don't have time to waste on charitable causes, Mr. Windsor."
"I didn't ask to be removed from the contest, Ms. Stuart. I was merely interested in discovering how I came to be a part of it," Jonathan said pleasantly.
"I don't understand, Mr. Windsor."
Her eyes were still angry, but they no longer met his with a challenging stare. Her body language clearly indicated she was not being entirely truthful with him, and Jonathan felt pleased that she wasn't a very accomplished liar. He was also fairly certain his mother was somehow involved in this schedule, so he immediately decided to drop the matter. It would hardly be fair to drag Lauren into the middle of yet another battle between him and his strong-willed mother.
"Don't worry about it, Ms. Stuart. I look forward to seeing you next Saturday." His easy smile brought a flood of red color to her cheeks. Jonathan thought it made her look even prettier. "If it isn't too much trouble, could you wrap up a dozen of those cream pastries for me? I promised my secretary I'd bring her a treat from the shop."
He stared at her intently while she silently filled the bakery box, rang up the sale, then handed him the pastries and his change. Their fingers briefly touched during the exchange, and a flair of desire tugged at Jonathan. He glanced up quickly, hoping to see a similar reaction in her eyes, but Lauren turned her back on him and marched away.
Disappointed, but not entirely discouraged, Jonathan left the shop, completely mystified and totally intrigued by the small woman with a large chip on her shoulder.