Adrienne Basso's HOW TO ENJOY A SCANDAL
Adrienne Basso's HOW TO ENJOY A SCANDAL
"Ms. Basso has a gift for creating madness and mayhem in stories tinged with simmering passion and poignancy."—Kathe Robin, Romantic Times Magazine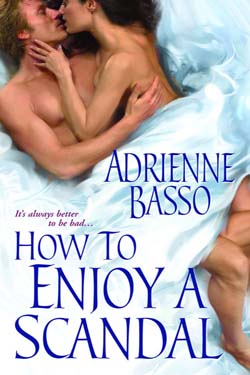 HOW TO ENJOY A SCANDAL
(The Ellinghams Book 1)
Publisher: Zebra Books
Publication Date: April 1, 2008 (ebook)
ISBN: 9781420129564 (ebook)
Publication Date: April 1, 2008 (mass market paperback)
ISBN-10: 0821780417
ISBN-13: 978-0821780411
Double Deception. . .
Twins Jason and Jasper Barrington were once the wildest of scoundrels, but inheriting a title has reformed Jasper. Now it's Jason's turn to try his hand at redemption by posing as his brother to investigate improprieties at one of the family estates. What he doesn't count on is the amorous attention of every eligible young lady in York. When one of them slips into his bed, Jason finds himself face-to-face with her sister. . .and falling madly in love with her. Smart, strong, and somewhat mysterious, Gwendolyn Ellingham brings out the best in Jason--as well as his most wicked desires. . .
Equals Sweet Seduction. . .
Rumors may have ruined Gwendolyn's social standing, but she has no intention of letting her sisters fall to the same fate. With one throwing herself at Viscount Fairhurst and the other unknowingly entangled in the estate's intrigues, Gwendolyn has no choice but to stay close to Jason and try to distract him from the truth. As sober and thoughtful as the gentleman appears, Gwendolyn senses a fire that blazes hotter whenever they're together--a fire that ignites her own longings in ways she never imagined. Jason is the one man who could tempt her to earn her scandalous reputation. . .and make her surrender to an all-consuming passion. . .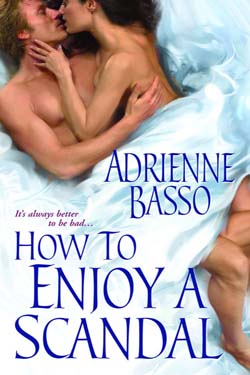 Yorkshire Countryside - 1817
"Dorothea's actions were an uncharacteristic aberration, an incident of momentary madness," Gwendolyn declared.
"Ahh, so the prospect of marrying me drives women to acts of insanity?" Lord Fairhurst looked at her, his expression mild and unperturbed. "I am uncertain if I should be flattered or appalled by that remark, Miss Ellingham."
Gwendolyn barely held back an exasperated hiss. The viscount was deliberately trying to be difficult and she quickly admitted there was very little she could do to change that attitude. Still, they had come here for a specific purpose and she at least had to try to get some assurance from him that he would say nothing about the incident.
"We seek not to make excuses, my lord, but rather to assure ourselves of your discretion. I am sure you do not wish to be the object of gossip and speculation."
"I suspect that my reputation will weather the storm intact." He stretched out his legs and crossed them at the ankles. "However, this is the sort of gossip that could ruin a young girl's prospects."
"Precisely," Gwendolyn agreed. "Which is why we ask that you show some empathy and remain silent about the matter. There must have been at least one time in your life when you acted on impulse, without giving due consideration to all the consequences of your actions."
Lord Fairhurst remained perfectly still, but for just a second his eye blinked. She had made her point, and apparently also struck a nerve. Perhaps the viscount was not as stuffy and straight-laced as he appeared. Gwendolyn remembered hearing rumors that he had been a rather impulsive young man.
He lifted his head and looked into her eyes. For a moment their gazes locked and Gwendolyn wondered what he saw, what he was searching for when he regarded her. Wondered, what in heaven's name he wanted from them.
"You speak from experience, Miss Ellingham. What, or rather who, precisely, ruined you?"

"Ms. Basso has a gift for creating madness and mayhem in stories tinged with simmering passion and poignancy."—Kathe Robin, Romantic Times Magazine